Estrogen Month - Day 30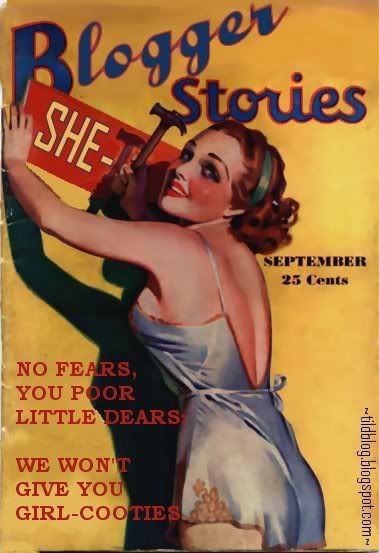 Tomorrow's the last day of Estrogen Month, and the day I add more Gals in Waiting to my sidebar blogroll/regular reading rotation based on your comments and votes. One last chance to get into the act - here's what Estrogen/Women in Blogging Month is all about. Thanks as usual to Tild~ for the illo.
Posts on women and blogging which caught my eye today include the following:
Astarte (yeah, I know, I'm starting to sound like a broken record, but she really has been on a meta-roll)
muses about
a post by
Genia Stevens regarding black feminist bloggers
which I hadn't gotten to because Genia's in the third Gals in Waiting section (the one with too many GIWs to count) and I've been way swamped lately. Genia's post has a number of links to black feminist bloggers that I didn't have before, so they've gone onto the GIW section too; she also mentions
Owukori's blog which links to lots of African (particularly Kenyan) female bloggers
, a number of whom have graced the Pen-Elayne comments section this month with their lively presence. Frankly, I was more surprised by Genia's omissions than by her inclusions - where are
Natalie Davis
and
Pam Spaulding
, for instance? Although folks like
Kim Pearson
are listed in the
black women bloggers webring
, so that's an indirect plug. It's also worth considering that, unless a blogger posts her picture on her blog, it's slightly easier to discern gender than race with most blogs. Heck, I see loads of comments from folks who still don't know
Steve Gilliard
and
Jesse Taylor
are black - but there you go, they don't put their pictures up on their blogs. Also weighing in on the subject, with lots more links, is
Ophelia Payne at XX
.
Cindy Roy has a nice introspective post about "
why I don't jump aboard to attack men bloggers for not linking to women bloggers and why it bothers me to see it happen
."
And let's wrap things up for the day with
this post by Kevin Drum about gender and sex issues
. It even passes the
Shakespeare's Sister Test
!